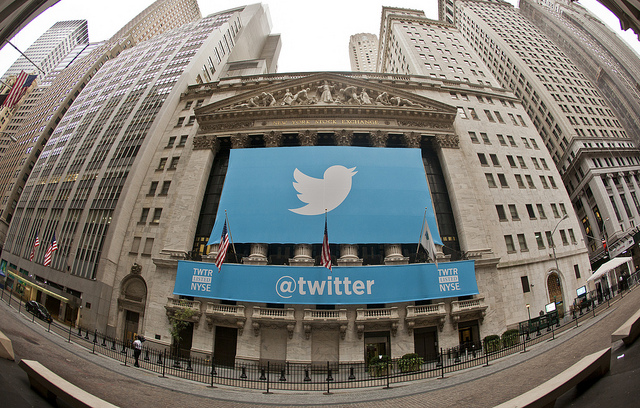 flickr photo shared by Anthony Quintano under a Creative Commons ( BY ) license
One of the most popular forms of social media engagement is the tweet wall: a live Twitter feed embedded directly into your presentation or the big screen, where conversations and ideas can flow like selfies at a 13-year-old pajama party.
It's a powerful tool. Threading topics and people together to form a single cohesive narrative is what Twitter does best, and the tweet wall harnesses that power to add potency and inclusivity to any event.
Like conversations themselves, tweet walls are basically infinite in their potential and limitless in their possibilities, but to get your creative juices flowing, let's go over a few tried-and-true tactics and a couple of more creative uses.
Hashtag let's do this.
Conference Hashtag
Let's start with the most basic (but crucial) of social media conference tactics: the conference hashtag. If you want to generate buzz around your event beforehand, the humble conference hashtag should be the first tool in your arsenal.
Why? Many studies have shown that we derive greater pleasure from the anticipation of an event than from the event itself.
In The Myths of Happiness: What Should Make You Happy, but Doesn't, What Shouldn't Make You Happy, but Does, Sonja Lyubomirsky explains:
…researchers who studied a thousand Dutch vacationers concluded that by far the greatest amount of happiness extracted from the vacation is derived from the anticipation period…
Conference hashtags also add an oft-neglected segment of the audience to the conversation: those who want to attend your conference, but can't. Not only do conference hashtags help generate buzz before your event, they also get your entire audience involved in the excitement.
Keep your hashtag as short as possible to save space for comments, and be sure to include it in every single piece of event propaganda: blogs, newsletters, tweets, flyers, and invitations.
Five-Word Synopsis
Even the best speakers occasionally fail to get their point across. By asking your audience to tweet in a five-word synopsis of each speaker, you can gauge comprehension and keep tabs on the mood of your audience, or just use it as a gentle but persistent reminder of the central topics of the event.
In-Line Ads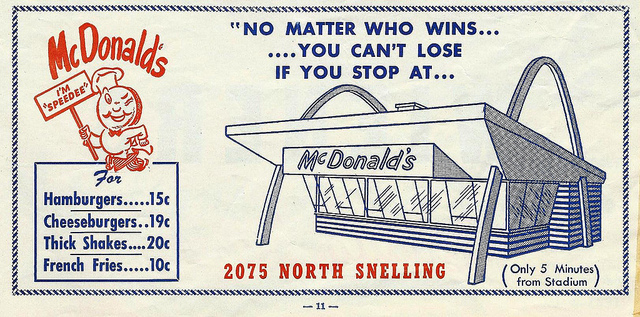 flickr photo shared by France1978 under a Creative Commons ( BY-SA ) license
Conferences are often one of the biggest line-items in your company budget, so anything that can help generate revenue for the event is a huge plus. You'll inevitably have sponsors lined up, but you can easily catapult one or more to extremely prominent placement by giving them some massive exposure on your tweet wall.
When you embed a Twitter feed into your event presentation (with LiveSlides' Tint integration, say), you can design the banner that appears at the top of the wall. That's some pretty enticing real estate for sponsors.
#TIL (Today I Learned)
In The Paradox of Choice, Barry Schwartz sums up research by renowned psychologist Daniel Kahneman that shows that:
[What] we remember about the pleasurable quality of our past experiences is almost entirely determined by two things: how the experiences felt when they were at their peak (best or worst), and how they felt when they ended.
To that end, the #til hashtag encourages audience members to sum up their experience by tweeting their biggest takeaway. It's a simple way of nudging users to recall the best or most informative moment of the event, ensuring that their general impression of the conference is a positive one, which will have lasting repercussions for next year's conference.
Photo of the Day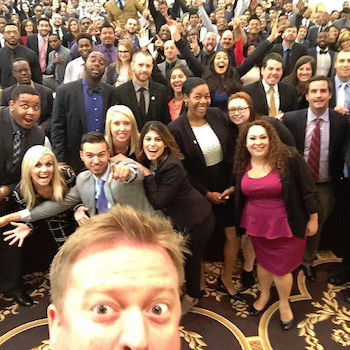 flickr photo shared by Cydcor under a Creative Commons ( BY ) license
Over the span of multi-day conferences, it can be tough to keep up the high level of engagement of that first day. To keep it fresh, try a #photooftheday competition, in which your audience members tweet a photo that best exemplifies the spirit of the conference. If you wanna get creative or keep it relevant, just throw in a specific theme.
Think Bigger
These are just a few of the nearly infinite possibilities for an embedded tweet wall, and some of the tamer ones at that. If you're really looking to make a splash, you could go much bigger: host more in-depth competitions, create a treasure hunt (some have even integrated QR codes into the found items), or keep it light by asking everyone to tweet a picture of their shoes and pit all the Nike-lovers against the New Balance crowd.
You could even dispense with the conference agenda altogether, letting the audience crowdsource topics for a completely organic event discussion.
The days of monologue conferences are long gone. Now, your audience expects a dialogue, or even a polylogue. Multi-directional conversation is the name of the game.
And what better facilitator of conversation is there than Twitter?
Have any other ideas for a tweet wall for large conferences? Let's hear 'em! Give us a shoutout (on Twitter, of course).