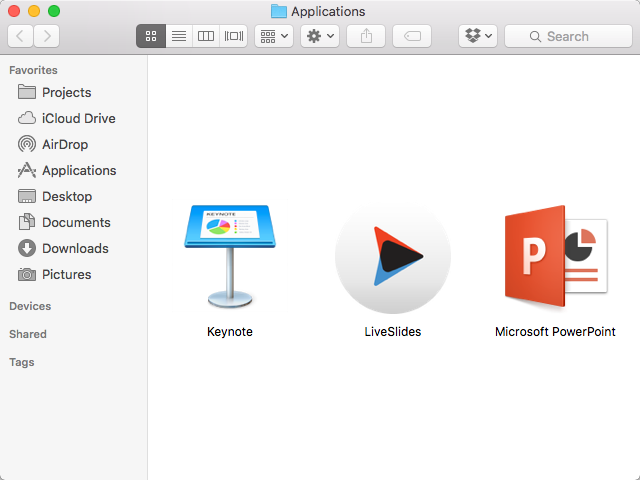 For six months now people have been using LiveSlides to power up their presentations by effortlessly embedding web content (video, social media, web pages, etc.) into their slide decks. Alas, the LiveSlides fun was limited to only Windows PowerPoint users.
Over the past few months we received email after email asking for a Mac version of the tool. Well, folks, here it is. The LiveSlides Mac App is now live and available. What's more, it works on both PowerPoint and Keynote!
And so it begins
For a while we've been sharing with you how to knock presentations out of the park by embedding video and Twitter feeds into your presentations. Now that LiveSlides works on both Windows and Mac (and not just with PowerPoint but with Keynote as well), the possibilities are limitless.
Ask and ye shall receive
Turn one-way presentations into a conversation by asking your audience questions. With LiveSlides you can insert polls into your slide deck and get instant feedback.
Can't stop the signal
Social media is a fact of life. Why not harness it for your benefit and bring the backchannel to the foreground. Display live Twitter and social media walls from right inside your slides to interact with audiences and see what people are talking about.
Give them what they want
One major problem with open mic Q&A is that someone inevitably is going to ask a lame question. By embedding a Q&A/Brainstorm poll from Poll Everywhere into your presentation via LiveSlides, audience members submit and upvote the questions they care about and downvote the ones they don't.
Takin' care of business
Why waste time copying and pasting or taking screenshots to share your team's data? It's either going to be out of date by the time of the meeting, or you're going to be scrambling to do it at the last minute to have most up-to-date figures. With LiveSlides you can embed your real-time dashboard right in your presentation. What about your team's calendar? Yep, we've got you covered there, too.
To infinity and beyond
That's just the tip of the iceberg. In fact, you can probably think of uses we've never dreamed of. When you can embed any website on any slide, your ability to astonish, convince, and engage everyone is only limited by your own chutzpah.
Download the LiveSlides Mac app. Go nuts. Be brave.